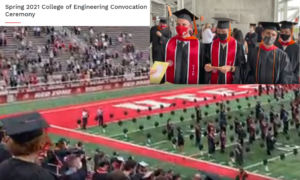 The College of Engineering hosts an in-person Convocation Ceremony on Friday, May 7th at Rice Eccles Stadium for the graduating Class of 2021 and Class of 2020.
We congratulate our  our team members (MS: Kaden Powell, MS: Dean Collette)! They deserve it. It was wonderful to see our former team member (BS: Dinorah Segovia).
In the convocation, Dr. Brown (Dean of COE) recognized the NSF CAREER awardees on the stage. Dr. Yoon was one of the recipients.